DUO-CACIB SHOWS in Kielce (19-20.11.2022)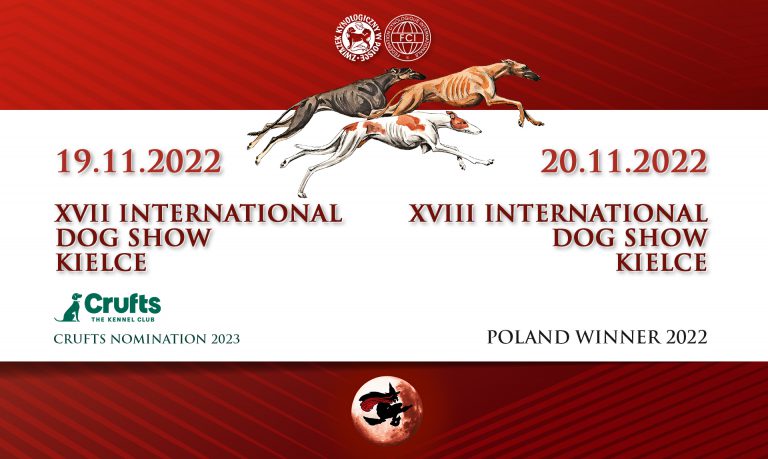 XVII INTERNATIONAL DOG SHOW in Kielce 19.11.2022
Crufts Qualification 2023
Judges: click here to see the cast
The judical cast can be changed for the reasons independent of the show organizer.
We would like to inform you that due to an accident, Mrs. Jurate Butkiene
will be replace by Aleksander Lubaszek (FCI 1), Małgorzata Zakrzewska (FCI 3) and Anna Rogowska (FCI 2).
ANNOUNCEMENT
Finals Best of Group will start with group 3 and then proceed as planned.
Best of Group
Group 3
Group 1
Group 2
Group 4
Group 5
Group 6
Group 7
Group 8
Group 9
Group 10
XVIII INTERNATIONAL DOG SHOW in Kielce 20.11.2022
Judges: click here to see the cast
The judical cast can be changed for the reasons independent of the show organizer.
Place: TARGI KIELCE, adress: Zakładowa 1, 25-672 Kielce
https://www.targikielce.pl/

ENTRY FEE FOR THIS SHOW IS REQUIRED.
Acceptance of the entry will take place after received payment.
If the fee is not paid, entry will be canceled.
On-line payment PayU for this show are available in the wystawy.NET system.
DEADLINE: 07/11/2022
It is not possible to withdraw an entry after the closing date
Entry fees (day):
for the first dog (60 euro)
for every additional dog (50 euro)
minor puppy, puppy and veteran class (30 euro)
Best brace, Best Breeding Group (30 euro)
Polish breeds (without a polish hunting spaniel) (30 euro)
Polish breeds: minor puppy, puppy and veteran class (15 euro)
Polish hunting spaniel (free)

Junior Handling (20 euro)
BANK ACCOUNT
(PayU is available for this shows)
SWIFT: INGBPLPW; IBAN: PL 73 1050 14 16 1000 0090 8002 3865
Note: entries number, breed, name of the dog, MWPR 19.11.2022

Organizer:
Związek Kynologiczny w Polsce – Oddział w Kielcach (The Polish Kennel Club – Branch in Kielce)
ul. Śląska 10, 25-328 Kielce, Poland
+48 882 740 882, e-mail (everything concerning the show): kielce.zkwp@op.pl
INFO PRE EXHIBITORS
COVID-19 RESTRICTIONS! The show will be run and managed in line with current epidemiological rules and restrictions. The organizer reserves the right to imply any changes in accordance with the current epidemiological situation!
Acceptance of the application will be confirmed by the entry letter. Owners of registered dogs print their entry sheets from the online system themselves (approximately 5 days before the show). Catalog numbers are also part of the entry form. Numbers are not issued at the exhibition. Exhibitors will bring the printed ones with them to the exhibition.
The issuance of prizes will be in a specified area (marked on the map of showgrounds).
At the show it is necessary to follow the instructions of the show committee.
PROGRAM
From 8.00 entrance to the exhibition ground.
10.00 – 15.00 Judging in the rings
10.00 – 16.00 Prizes, awards and results confirmation
15.30 Final competitions
Program change reserved!
CLASSES
• Minor Puppy class 4-9 months
• Puppy class 6 – 9 months
• Junior class 9 – 18 months
• Intermediate class 15 – 24 months
• Open class 15 months and over
• Working class 15 months and over (FCI working certificate compulsory)
• Champion class 15 months and over (Championship certificate compulsory)
• Veteran class 8 years and over
FCI NON RECOGNIZED BREEDS
Dogs of not yet FCI recognized breeds but with a valid entry in any FCI member stud book registry can be entered to the show. FCI non-recognized breeds are not able to be awarded with a FCI – CACIB.